General Enquiries

qldnt@anca.org.au

President

Joshua Clifford
qldnt_president@anca.org.au

Vice President

Shannon Leonard

Secretary

Debra Shearer-Dirie

Treasurer

Helen King

Committee Members

Clare Finlayson
Kylie Moore
Peter Ingram
Jane Iszlaub
Julee-anne Bell
---
We have some exciting events coming up in 2023, check them out below!!
CHORAL CONVERSATION
S - all year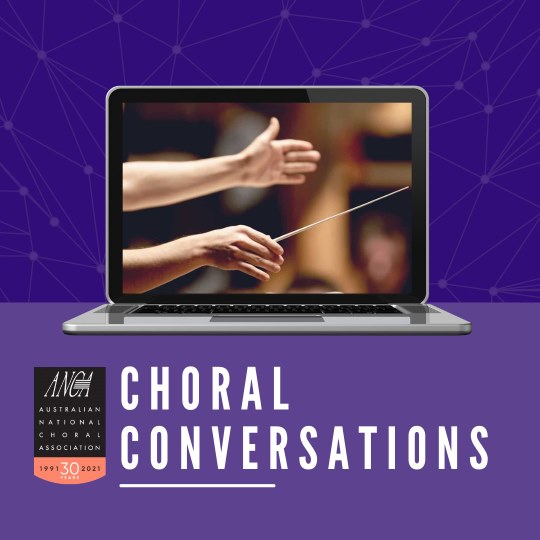 Continuing from 2022, Choral Conversations is a new short video series where we ask choral experts for their advice and tips on a range of topics from gesture to score preparation to running effective rehearsals.
Throughout the year, new videos will be released. For a small fee, these videos are yours to access whenever you want. Our videos feature insights from esteemed conductors, pedagogues, and clinicians such as Dr Debra Shearer-Dirie, Paul Holley OAM, Simon Carrington, Wendy Rolls, and more! We've got more videos on the way in 2023 - stay tuned for annoucements and updates!
Get all the choral PD you've ever wanted from the comfort of your own home! Purchase your subscription here: https://www.trybooking.com/events/landing/889231



Kingaroy SingFest 2023 - July 2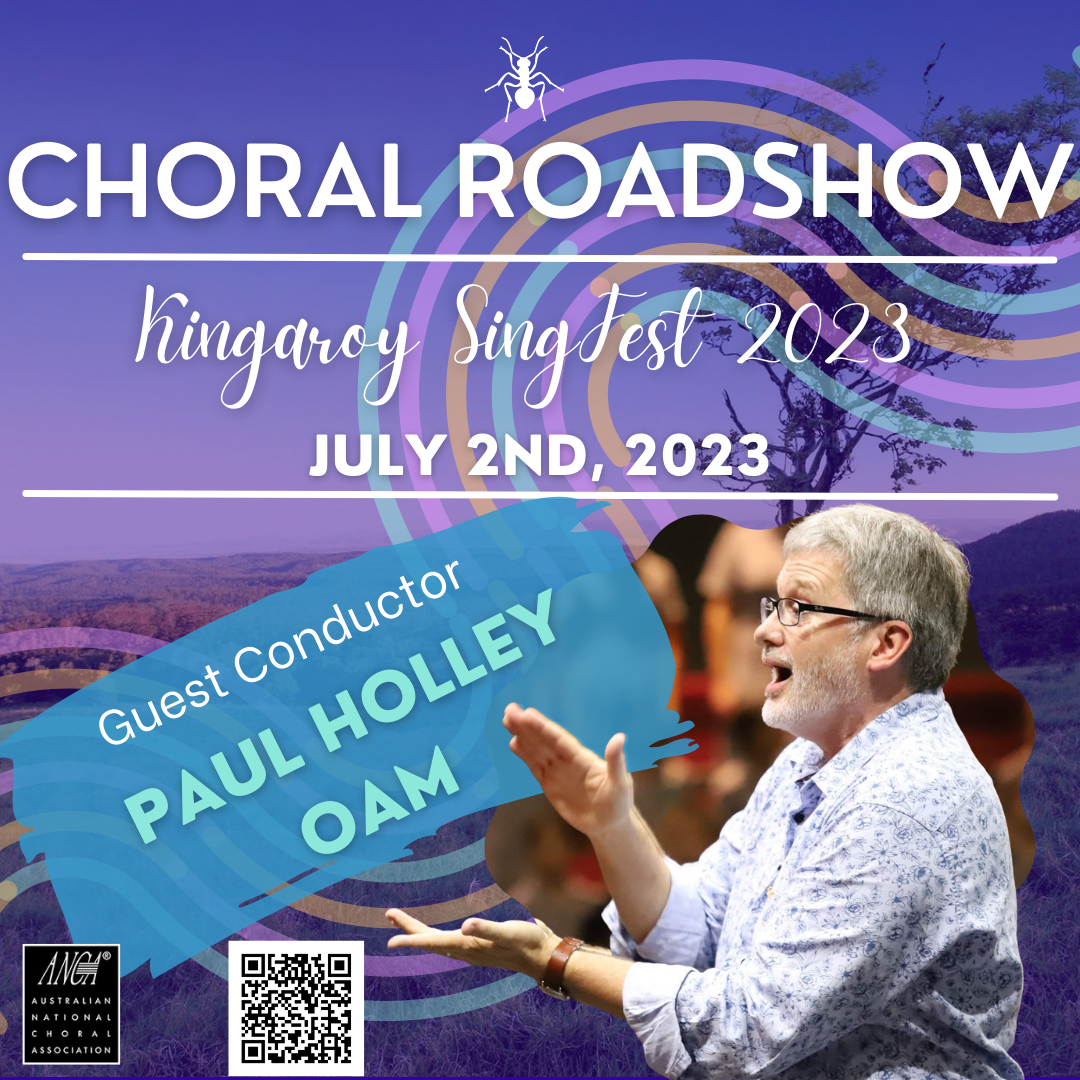 After the success of our 2022 "July Jamboree" in Esk, we are continuing to connect and engage with the wonderful choirs and ensembles throughout our Chapter, and in 2023 we're so excited to be holding our next regional event - "Kingaroy SingFest 2023"! We'll be presenting a day full of choral learning, communicty singing, and musical joy!

Led by expert choral conductor Paul Holley OAM, the day will start with a Professional Development session for conductors. Following this will be a massed singing workshop with our choral leader, where community choirs and singers are all invited to join together. The day will end with a concert featuring this large ensemble and showcasing local ensembles.

Tickets can be purchased by clicking the image with Paul above, or following this link: https://www.trybooking.com/CFURR ,




International Guest: Dr. Heather Buchanan - Saturday June 24th & Sunday June 25th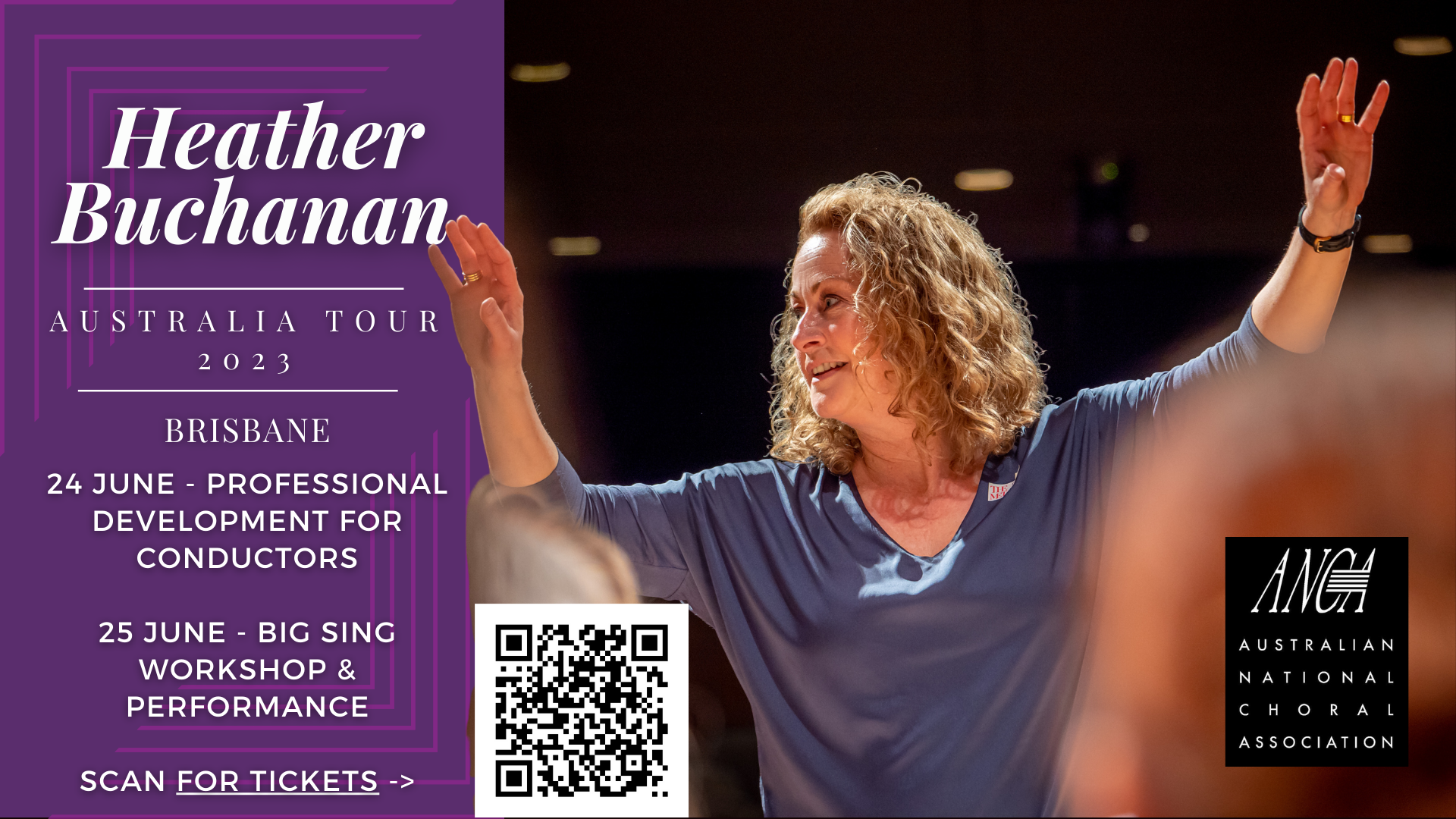 As previously announced by our National ANCA Committee, Australian-born & US-based choral conductor Dr. Heather J. Buchanan will be visiting Australia in June/July this year!

We will be hosting Dr Buchanan in QLD on Saturday 24th of June for a day of sessions aimed at conductors ranging from ebodied and expressive choral gesture, breathing, and developing your choral program philosophy!

On the next day (Sunday 25th June), Dr Buchanan will lead an afternoon choral workshop, rehearsing some dynamic and enjoyable repertoire, to be presented in an evening concert, which will also showcase local Brisbane choirs. Come along for this special opportunity to sing with an international conductor and experience Dr Buchanan's unique and celebrated approaches and methods!

Tickets can be purchased by following this link: https://www.trybooking.com/CHIKB


QLD/NT State Conference - Friday Sep 15th - Sunday Sep 17th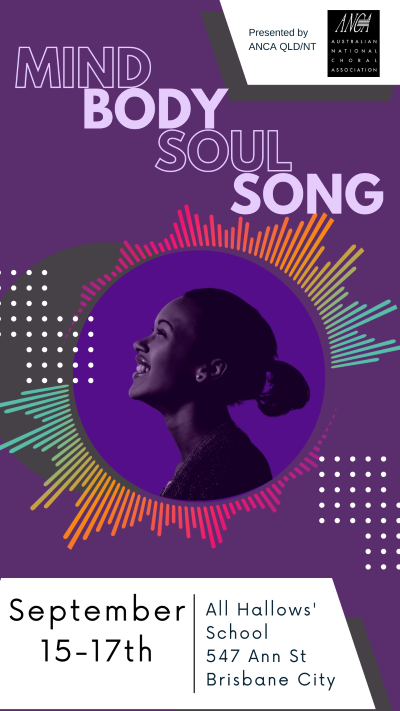 SAVE THE DATE
Our 'big' event for 2023 is our State Chapter Conference - Mind Body Soul Song!

SUPER EARLY BIRD TICKETS OPEN NOW: https://www.trybooking.com/CICBQ

We are planning to have a range of exciting presenters and sessions on offer, featuring topics ranging from healthy choral singing practices and perspectives on rehearsal techniques, through to choral education, research - and more! We can't wait to bring you a conference to inspire and excite all choral musicians out there! There will be so much on offer, from keynote speakers, workshops, trade displays, and an Opening and Closing concert,. Check out our Conference website here: https://mbss2023.my.canva.site/?fbclid=IwAR2cGo5H61HDXoIOQYNWzdVphj5mRNfsCyd8_9Me8ISrZh3Z1w3CvUiJt0Q.



PAST 2023 EVENTS

Reperoire Reading Day - Sunday April 23rd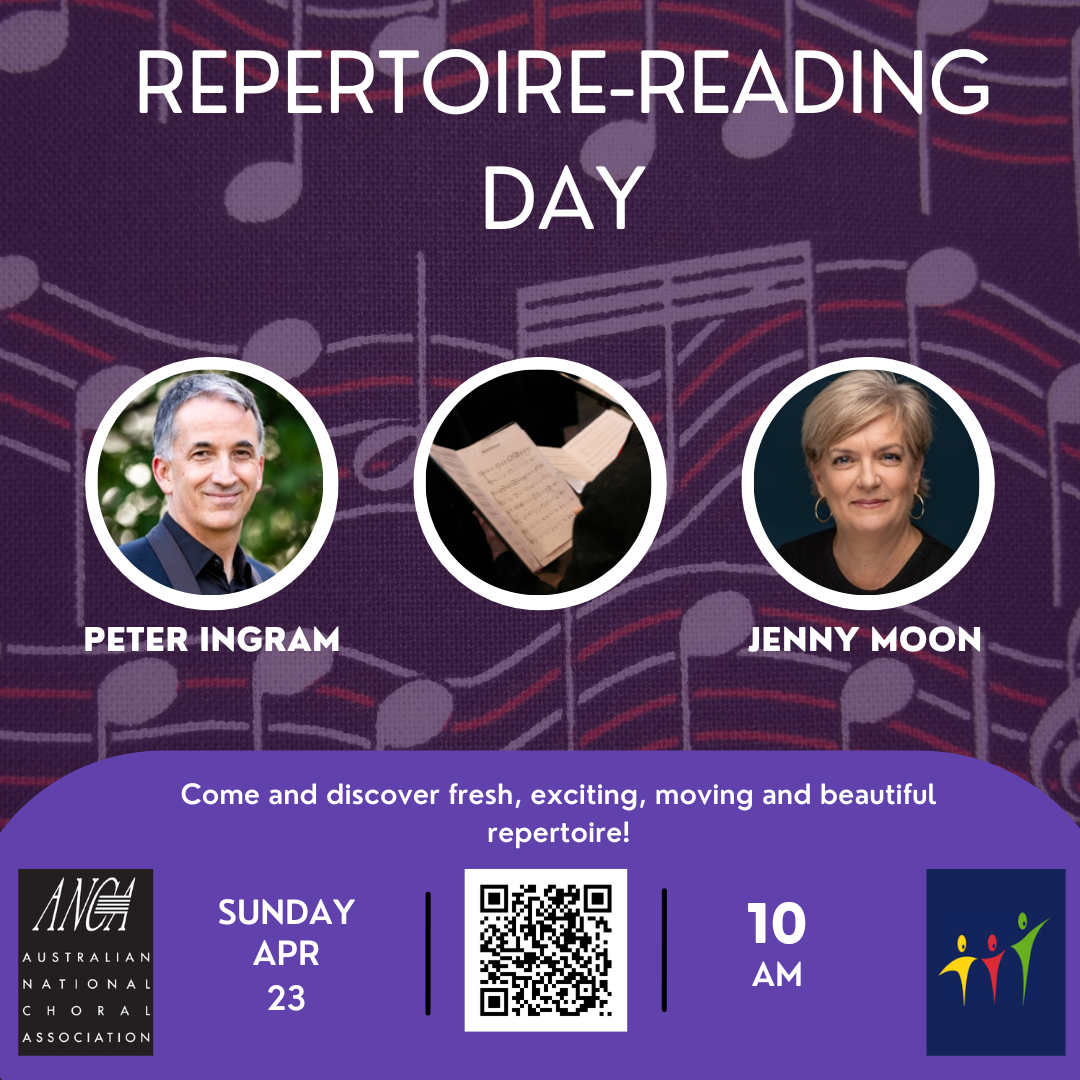 In collaboration with Voices of Birralee (https://www.birralee.org/wspHome.aspx), we presented a Repertoire Reading Day to discover new music to suit ensembles of all shapes and sizes! Presented by leading choral conductors and facilitators Jenny Moon and Pter Ingram, sessions catered for treble groups, mixed voice choirs - and some new canons and warm-ups to re-energise rehearsals. Held in the green & leafy Birralee headquarters in Bardon, Brisbane, you can now purchase a 'REPLAY' ticket to this event, and get access to video recordings of the sessions and all booklets. Click on this link for these 'REPLAY' tickets: https://www.trybooking.com/CIFZX