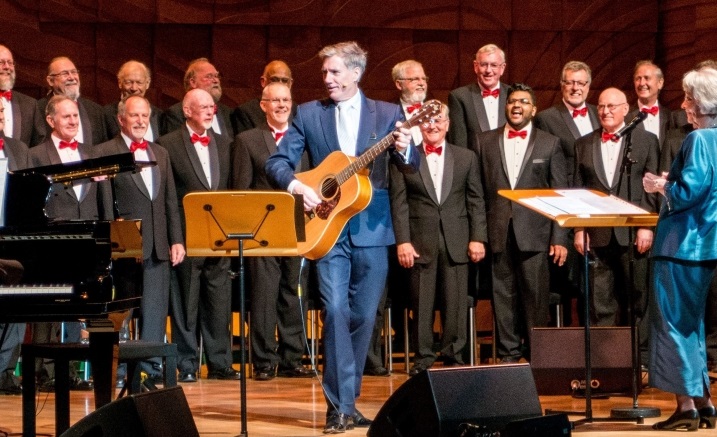 Now into its 43rd year of music making, VicWelsh is a traditional Welsh male voice choir, singing in four-part harmony and presenting about fifteen concerts in a non-Covid year. The choir regularly tours interstate and internationally with the next UK tour planned for September 2022.
DAVID HOBSON
Australian tenor and composer David Hobson is one of Australia's best known operatic and recording artists. Special engagements include a performance in Canberra for Queen Elizabeth. He is well known from his appearances on Carols by Candlelight and is much in demand as a solo concert performer.
BHÁN TRÉ – CELTIC GROUP
One of the first all-female Celtic bands in Melbourne, founded in 1997. The band comprises Irish-born Geraldine Davis (vocals,guitar, bodhran, bouzouki), Sue Foley (vocals,bodhran, tin whistle). Sue is the main organiser of the Melbourne Celtic Festival on St Patrick's Day 17 March.
FALEIRY KOCZKAR OAM – MUSICAL DIRECTOR
Since arriving in Australia in 1964, Faleiry (a native Welsh speaker) has held senior music teaching and directorship appointments in several states and was appointed Musical Director in 1994. In 2014 she was awarded the Medal of the Order of Australia for her services to music education and to Welsh culture.
RUSHAN HEWAWASAM – ASSOCIATE MUSICAL DIRECTOR
Sri Lankan by birth, Rushan started singing at 9 and conducting at 15. He joined the choir in 2012 as a second tenor and is an accomplished soloist, pianist, musical arranger as well as being the conductor of Conchord Choir. He is the CEO of a national medical education and GP practice group.
LORNA OGILVIE – ACCOMPANIST
Originally from South Africa, Lorna has been the choir's accompanist since1998 and has toured nationally and internationally with them on many occasions. She teaches piano, accompanies candidates for VCE and AMEB examinations and freelances as an accompanist for schools, choirs and for local and international soloists.